Adeptio Strategic Forum
Meet some of our members by clicking here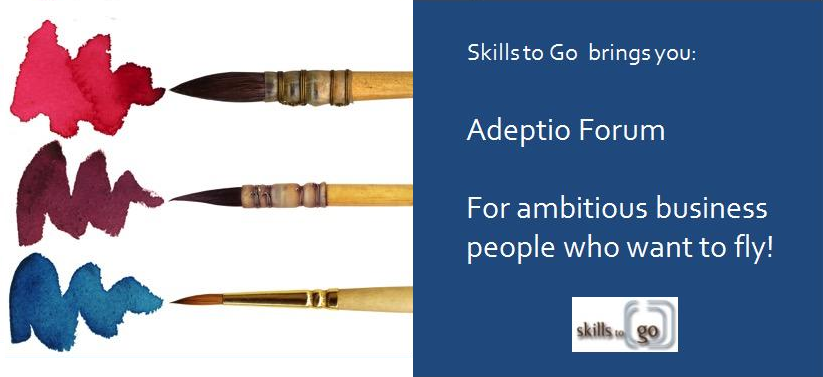 What is Adeptio?
Adeptio – the Latin word for 'achieving'!
It sounds positive and upbeat, optimistic and open-minded, like our members and our forum! As a member of Adeptio you will be part of:
* A six weekly strategic business meeting where you will work intensively on your business to achieve new levels of success.
* A Private Facebook group for asking questions, seeking advice, getting feedback, sharing challenges with other group members.
* A network of people who are ambitious and able, who can help you achieve more. Have a look at our other members here.
How does it work?
Adeptio focuses on developing the skills, abilities and attitudes that you need to succeed in your business. Success isn't a quick fix…it takes time and is a process of learning and re-engineering thinking patterns that can hold you back. You can become a member in either our Tuesday or Wednesday group, and if you ever have to miss a session due to holiday or illness, you can swap to the other group which means you never miss out!
What will I gain?
* Get back in control & achieve more
* Become open to more lucrative opportunities
* Increase your turnover & profitability
* Enjoy your business more – restore some balance
* Expand your skills and thinking
* Build a strong network of support & on-hand expertise
When will it be your time?
If you are like me…
You spend a lot of time working very hard in your business. Developing your skills as a business owner might be on your list of things to do, but maybe you're not sure quite how to raise your game.
My experience?
My business has seen dramatic improvements since I signed up to become part of a professional business development group. Not a cheap thing to do, but I gave it a year to see what the impact would be. And boy have I not regretted it. Since committing regular time to working on my business and my mindset, I've seen a dramatic increase in the sales and profitability in my business, I've launched new successful products that bring me regular income and I've secured high value clients that saw my income double last year. Regular time spent clarifying my purpose, goals and aspirations means that I now have an ambitious growth plan in place for the future of Skills to Go, and I'm implementing important actions regularly. I put this down to the fact that:
* Without fail I devote a half day at least once every six weeks to thinking strategically about the direction I am taking the business.
* I pay to attend my group by Direct Debit, which means that I rarely miss my half day a month meetings because I've committed.
* I share my strategic thinking time with other people…so my thoughts are enriched by the views and feedback of other people.
Everything starts with a thought – and the better the thoughts, the better the actions & the better the results.
——————————————————————————————————————————————–
The £ investment…
Risk-free
Trust me, when I signed up for my strategic business group – I wondered if I was doing the right thing. How would I know if it would pay for itself?
You will be having the same thoughts, I imagine. So how about I reduce the risk for you?  Firstly – try the group free – in other words, come to the first meeting as my guest & see what its all about. Then decide for yourself.
If you join, and after attending 3 meetings, you aren't experiencing any benefit, then provided that you can show that you have implemented the agreed actions set for you at each meeting, you can have your money back.
1. Adeptio Premier
Take part in half-day strategic action learning meetings (which take place every six weeks)
Skills Supercharge – 60 minute skills blast led by Miranda
Business Breakthrough – using action learning & Mastermind approaches
Accountability –share feedback on your progress since last time we met and commit to your goals
This level of membership also gives you access to our Private Facebook group where members can ask questions seek advice, get feedback or share challenges. *NEW* for 2017, all Adeptio members will appear in the members' directory
For members joining before the end of January 2017: Monthly payments of £33.75+VAT (payments must be made by standing order).
From February 2017: Monthly payments of £40.50+VAT (payments must be made by standing order)
2. Adeptio Plus
Upgrade to Adeptio Plus level and in addition to the features of Premier membership you will benefit from personal time 1-1 with Miranda Jenkins on 3 occasions for a 90 minute intensive session, over the year to suit your diary and your business needs. You can use this 1-1 time however you like – as a coaching or mentoring session, or to work on a pressing challenge, or to bounce some ideas around. Its up to you. A new feature of this membership level is the mid-way Skype call between meetings, to keep you on track.
For members joining before the end of January 2017: Monthly payments of £52.50+VAT (payments must be made by standing order)
From February 2017: Monthly payments of £63.00 +VAT (payments must be made by standing order)
3. *NEW* Adeptio VIP
Upgrade to Adeptio VIP level and in addition to the features of Plus membership you will benefit from 2 VIP Mastermind Days per year with Miranda. A day to work intensively on progressing your business vision and getting plans in place. VIP members can also book up to 3 Action Days with Miranda per year, where Miranda will be your accountability 'buddy' as you blast through your to-do list.
From February 2017: Monthly payments of £85.83 +VAT (payments must be made by standing order)
——————————————————————————————————————————————–
What do Adeptio members say?
"My bank balance rises each month and my diary fills with worthwhile work, not just work to be busy. There will always be rough times in any business, but now I know that when I hit a challenge, I have a team of people thinking through a rescue plan with me. It's without a doubt the best investment that I have made since starting up four years ago."
"…..I now feel like I belong to a group with vision and inspiration rather than trying to wade through the new challenges I faced alone.  …. the group are so supportive and the topics we cover, along with the accountability each session, have ensured that I am continually achieving my goals for me and my business."
"For me Adeptio has given me structure, targets, ideas, insight, accountability , a confidential platform to discuss problems, confidence and a support group to use at my fingertips 24/7 – my 2016 is now challenging, measurable and exciting. Thank you Miranda for facilitating this progression for me over the last year.."
"…..I could see immediately that this was going to be a way for me to learn, to be challenged and to be accountable. …I do so much better when I have others to bounce ideas off and to be held to the tasks which I've commented to do…for me and my business! The group is full of ambitious business people wanting to go farther and faster, and that is inspiring."